The purpose of the Waterfowl Research Foundation Fellowship is to develop critical scientific information about waterfowl and wetlands, contribute to the training of future waterfowl and wetland conservation professionals and honour the important role waterfowl hunters have played in supporting conservation throughout North America.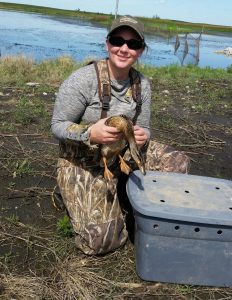 This fellowship has been awarded to Cynthia Anchor, a MSc student at South Dakota State University for her research on the post-fledging movement and ecology of hatch year mallards. During the post-fledging period, young mallards are learning new skills, exploring their environment, and preparing for migration and some studies suggest that their behavior may be different than adults at this time. Cynthia's work will help us better understand this essentially unstudied period in the lifecycle of mallards in the Prairie Pothole Region. She will mark ducks with small transmitters integrated with GPS and cellular technologies. Data from these devices will allow her to identify the potential influence of habitat characteristics, hunting disturbance, fall territory prospecting, and local weather patterns on local, regional, and migratory movements. This work will also allow Cynthia to assess potential implications of migration patterns and wintering locations on both survival and breeding success. Gaining this insight into factors affecting habitat use, recruitment, and breeding success of hatch year mallards will help ensure effective habitat management.
About the Fellowship
The Waterfowl Research Foundation Fellowship is open to graduate students enrolled at any North American university. Students must possess a current hunting or sportsman license issued by the appropriate regulatory authority. Subject matter for the student's research can deal with any aspect of waterfowl or wetland biology that promises to advance conservation.
Fellowships will be awarded based upon:
The qualifications of the applicant, including the candidate's past and present participation in waterfowl hunting
The scientific soundness of the student's research proposal
Originality and creativity in study design
Expected contributions of the research to furthering waterfowl conservation
The achievability of the work.
One award of $10,000 per year (Canadian) is available to provide personal or research support for the successful applicant. The award is renewable for up to two additional years for PhD students and once for Master's students, assuming annual approval of a satisfactory progress report, continued possession of a valid hunting or sportsman licence and the need for continuing financial support.
For additional information on this fellowship, download the Graduate Fellowships Background document.
Story
Supporting Young Scientists
New graduate fellowship will help shape the future of wetland conservation
Read More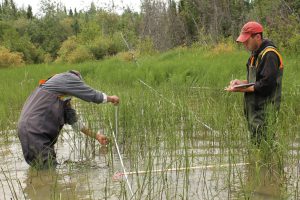 Past Fellowship Winners
2018-2019: Joshua Brown, PhD. Long-term genetic effects of game-farm mallard releases on wild mallards in North America, University of Texas at El Paso.
2017: Clay Stroud, MSc. Relating diets and food availability to long-term population trends of Lesser Scaup wintering on Lake Pontchartrain, Louisiana, Louisiana State University