The purpose of the Bonnycastle Fellowship for Wetland and Waterfowl Research is to support talented young professionals who are dedicated to furthering conservation in North America and advancing our scientific understanding of wetland and waterfowl biology.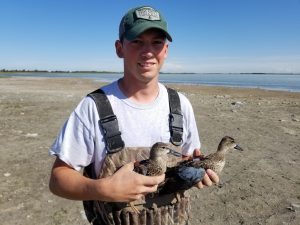 This fellowship has been awarded to Brett Leach, a MSc student at the University of Missouri, for his research on blue-winged teal migration and habitat use.
Blue-winged teal are among the earliest ducks to migrate south in the fall and the latest to arrive on the Prairies in the spring. However, their migration timing and distribution in Central and South America has made it challenging to quantify exact migration timing and habitat use during the non-breeding period using traditional approaches. Brett will mark teal with GPS/GSM transmitters to:
identify critical spring breeding, stopover, and wintering areas
quantify spring and fall migration timing
quantify habitat selection during the non-breeding period
Understanding waterfowl ecology during the non-breeding period has significant management implications due to potential cross-seasonal effects for the breeding season. Brett's research will fill key knowledge gaps about the annual cycle of this species and inform habitat conservation planning.
About the Fellowship
The competition is open to graduate students based at any North American university. It will be awarded based upon the following criteria:
The qualifications of the applicant; the scientific soundness of the student's research proposal
Originality and creativity in study design
Expected contributions of the study to wetland or waterfowl ecology
The importance of the proposed research to conservation
Achievability of the work.
Applications from doctoral candidates are preferred, but strong Master's candidates are also urged to apply.
The award of up to $8,000 per year (Canadian funds) is available to provide personal or research support for successful applicants. The award is renewable for up to two additional years for PhD students and once for Master's students, assuming annual approval of a satisfactory progress report and the need for continuing financial support.
For additional information on this fellowship, download the Graduate Fellowships Background document.
Past Winners of the Bonnycastle Fellowship for Prairie Ecosystem Studies
2018-2020: Samantha Fino, PhD. Evaluating relationships between predator community dynamics and duck nest survival in eastern South Dakota, South Dakota State University
2016-2017: Christine Rohal, PhD. Invasive Phragmites australis Management in Great Salt Lake Wetlands: Context Dependency and Scale Effects on Vegetation and Seed Banks, Utah State University
2014-2016: Hannah Specht, PhD. Occupancy of wetland dependent waterbirds in the Bakken Oil Field, North Dakota: Developing methods to assess impacts on low density, low detection species of concern, University of Minnesota
2011-2013: Lauren Bortolotti, PhD. The recovery of ecosystem function and biodiversity in restored prairie wetlands, University of Alberta
2006-2008: Ryan Fisher, PhD. Effect of landscape composition on habitat selection of grassland birds, University of Regina