The purpose of the Bonnycastle Fellowship for Wetland and Waterfowl Research is to support talented young professionals who are dedicated to furthering conservation in North America and advancing our scientific understanding of wetland and waterfowl biology.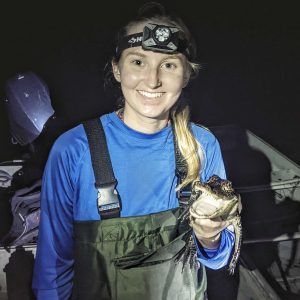 This fellowship has been awarded to Corinne Sweeney for her PhD research at the University of Missouri. Corinne's research will evaluate the effects of insecticide concentrations in wetland sediments on the aquatic insects that use those environments.
Neonicotinoids are a widely used group of pesticides that benefit agricultural producers by providing effective crop protection while having low toxicity to vertebrates. However, widespread application and the chemical properties of neonicotinoids have resulted in impacts on non-target species, including many aquatic insects that form an important component of wetland food webs. Corinne will:
Evaluate the persistence, toxicity, and bioavailability of sediment-associated neonicotinoids and establish toxicity benchmarks for aquatic invertebrates exposed to contaminated sediments
Quantify changes in aquatic invertebrate communities over time in Missouri wetlands and evaluate the role neonicotinoids have in community changes
Measure neonicotinoid concentrations in collected aquatic invertebrates
Her results will close knowledge gaps around sediments as a pathway of exposure for aquatic insects and improve our understanding of risks to aquatic insects in Missouri wetlands and thus the organisms, like ducks, that depend on them for food.
About the Fellowship
The competition is open to graduate students based at any North American university. It will be awarded based upon the following criteria:
The qualifications of the applicant; the scientific soundness of the student's research proposal
Originality and creativity in study design
Expected contributions of the study to wetland or waterfowl ecology
The importance of the proposed research to conservation
Achievability of the work.
Applications from doctoral candidates are preferred, but strong Master's candidates are also urged to apply.
The award of up to $8,000 per year (Canadian funds) is available to provide personal or research support for successful applicants. The award is renewable for up to two additional years for PhD students and once for Master's students, assuming annual approval of a satisfactory progress report and the need for continuing financial support.
For additional information on this fellowship, download the Graduate Fellowships Background document.
Past Winners of the
Bonnycastle
Fellowship for
Wetland and Waterfowl Research
2021-2022: Brett Leach, MSc. Quantifying blue-winged teal migration routes, phenology, and habitat selection patterns at important staging and wintering areas, University of Missouri 
Past Winners of the Bonnycastle Fellowship for Prairie Ecosystem Studies
2018-2020: Samantha Fino, PhD. Evaluating relationships between predator community dynamics and duck nest survival in eastern South Dakota, South Dakota State University
2016-2017: Christine Rohal, PhD. Invasive Phragmites australis Management in Great Salt Lake Wetlands: Context Dependency and Scale Effects on Vegetation and Seed Banks, Utah State University
2014-2016: Hannah Specht, PhD. Occupancy of wetland dependent waterbirds in the Bakken Oil Field, North Dakota: Developing methods to assess impacts on low density, low detection species of concern, University of Minnesota
2011-2013: Lauren Bortolotti, PhD. The recovery of ecosystem function and biodiversity in restored prairie wetlands, University of Alberta
2006-2008: Ryan Fisher, PhD. Effect of landscape composition on habitat selection of grassland birds, University of Regina