The purpose of the Waterfowl Research Foundation Fellowship is to develop critical scientific information about waterfowl and wetlands, contribute to the training of future waterfowl and wetland conservation professionals and honour the important role waterfowl hunters have played in supporting conservation throughout North America.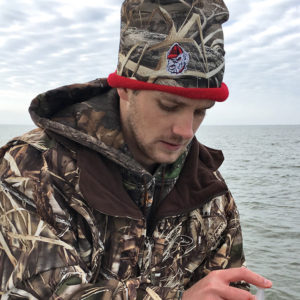 Fellowship winner Clay Stroud is an MSc student at Louisiana State University. His research will relate diets and food availability to long-term population trends of lesser scaup on Lake Pontchartrain, Louisiana.
Coastal Louisiana provides wintering habitat for large numbers of lesser scaup, a species of conservation concern. Lake Pontchartrain has some of the most important wintering habitat in the area, supporting upwards of half a million scaup. However, in some years populations on the lake dip to only a few thousand birds. Some of this variation could be tied to food supply, which changes yearly in response to both human-induced and natural disturbances like river diversions, droughts and hurricanes.
For his MSc, Clay will be using both long-term and recently collected data to better assess these interactions. Specifically, his objectives are to:
Determine which prey species and sizes scaup prefer to eat
Understand how environmental disturbances affect those prey species
Make predictions about how future disturbances could influence prey, and in turn, scaup populations on Lake Pontchartrain.
Clay's work will help us better understand factors influencing local abundance of wintering scaup and provide recommendations for managing this important area.
About the Fellowship
The Waterfowl Research Foundation Fellowship is open to graduate students enrolled at any North American university. Students must possess a current hunting or sportsman license issued by the appropriate regulatory authority. Subject matter for the student's research can deal with any aspect of waterfowl or wetland biology that promises to advance conservation.
Fellowships will be awarded based upon:
The qualifications of the applicant, including the candidate's past and present participation in waterfowl hunting
The scientific soundness of the student's research proposal
Originality and creativity in study design
Expected contributions of the research to furthering waterfowl conservation
The achievability of the work.
One award of $10,000 per year (Canadian) is available to provide personal or research support for the successful applicant. The award is renewable for up to two additional years for PhD students and once for Master's students, assuming annual approval of a satisfactory progress report, continued possession of a valid hunting or sportsman licence and the need for continuing financial support.
For additional information on this fellowship, download the Graduate Fellowships Background document.
Story
Supporting Young Scientists
New graduate fellowship will help shape the future of wetland conservation
Read More