The purpose of the fellowship is to develop critical scientific information about waterfowl and wetlands, and to contribute to the training of future waterfowl and wetland conservation professionals.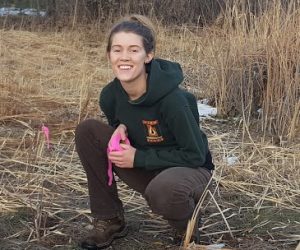 Emily Tarsa is the most recent winner of this fellowship for her PhD work at Utah State University. Her research is focused on restoring native plant communities in wetland ecosystems to improve waterfowl habitat and return critical functions and services, particularly in the wetlands surrounding the Great Salt Lake.
One of the greatest threats to wetland conservation and waterfowl habitats across North America is the invasion of Phragmites australis. Recent research has highlighted effective control strategies for Phragmites. However, natural recolonization of native plants needed to support waterfowl habitat has been limited. Seeding is a financially and logistically feasible restoration option, however native plant seedling mortality is often high in restorations. Emily's research will focus on how to effectively revegetate wetlands following Phragmites removal. She will identify functional traits that drive seed and seedling life stage transitions for native species. She is focusing on native plants that provide critical waterfowl habitat, as well as Phragmites. Specifically, her research objectives are to:
Evaluate the variation in regeneration traits that exist within and between native species sourced from different sites throughout the region
Identify regeneration traits that are linked to plant performance in restorations under various environmental conditions
Develop a systems model to quantitatively describe the relationship between regeneration traits and restoration outcomes under various environmental conditions
The results of Emily's research will provide important management tools that can be used to develop targeted, cost-effective wetland restoration strategies following Phragmites control.
About the Fellowship
The fellowship is open to graduate students enrolled at any North American University. Subject matter for the student's research can deal with any aspect of waterfowl or wetland biology that promises to advance conservation.
Fellowships will be awarded based upon:
The qualifications of the applicant
The scientific soundness of the student's research proposal
Originality and creativity in study design
Expected contributions of the research to furthering waterfowl conservation
The achievability of the work.
One award of up to $9,500 per year (U.S. funds) is available to provide personal or research support for the successful applicant. The award is renewable for up to two additional years for PhD students and once for Master's students, assuming annual approval of a satisfactory progress report and the need for continuing financial support.
For additional information on this fellowship, download the Graduate Fellowships Background document.
Past Fellowship Winners

2017-2018: Kyla Bas, MSc. Effects of spring phenology, density dependence and predator-prey cycles on productivity of montane and boreal-breeding ducks, University of Saskatchewan.
2015-2016: Amelia Raquel, MSc. Assessment of Factors Influencing Patterns of Duck Community Composition in the Prairie Pothole Region: Effects of Climate and Land Use, University of Saskatchewan
2013-2014: David Messmer, PhD. The Effect of Wetland Abundance, Spring Phenology, and Landscape Productivity on Breeding Ducks in the Western Boreal Forest, University of Saskatchewan
2010-2012: Brandt Meixell, PhD. Prevalence, variation, and effects of low pathogenic avian influenza in waterfowl, University of Minnesota
2008-2009: Pauline Bloom, MSc. Factors Affecting Mallard Duckling Survival in Western Canada: Implications for Conservation Planning, University of Saskatchewan