The purpose of this fellowship is to provide financial assistance to deserving students conducting waterfowl or wetland research in North America.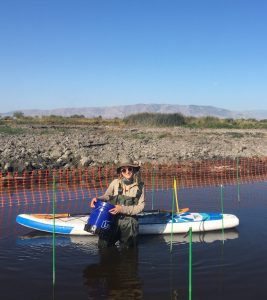 The most recent winner of this award is Kate Sinnott for her work at Utah State University. Kate's MSc project will focus on developing techniques and best practices for the restoration of aquatic vegetation.
Non-native species introductions, pollution, and land conversion have caused a global decline in aquatic plant density and diversity. Restoration may reestablish aquatic plant communities, but research on best practices is sparse, current planting methods are variably successful and often not scalable, and biotic interactions that may inform species selections for restoration are poorly understood. Kate will use field and mesocosm experiments to:
investigate planting methods that result in higher establishment of aquatic plantings
test planting methods with a focus on scalability of aquatic plant revegetation
understand how species richness and identity impact invasion resistance in aquatic plant restorations
Results from this study will improve aquatic plant restorations by identifying successful and scalable revegetation techniques.
About the Fellowship
The competition is open to graduate students based at any North American university. It will be awarded based upon the following criteria:
The qualifications of the applicant
The scientific soundness of the student's research proposal
Originality and creativity in study design
Expected contributions of the study to wetland or waterfowl ecology
The importance of the proposed research to conservation
Achievability of the work.
One award of up to $5,000 per year (Canadian funds) is available to provide personal or research support for the successful applicant. The award is renewable for up to two additional years for PhD students and once for students pursuing a Master's degree, assuming annual approval of a satisfactory progress report and the need for continuing financial support.
For additional information on this fellowship, download the Graduate Fellowships Background document.
Past Fellowship Winners
2019-2021: Casey Setash, PhD. Productivity of breeding waterfowl on working lands in a flood irrigated system, Colorado State University
2017-2018: Kelsey Navarre, MSc. Temporal covariation of demographic rates in lesser scaup (Aythya affinis) and management implications, Colorado State University.
2016: Megan Ross, MSc. Ecological factors affecting midcontinent light goose recruitment, University of Saskatchewan
2013-2015: Christopher Malachowski, PhD. Factors influencing habitat selection, movement patterns, and population dynamics of the engendered Hawaiian duck (Anas wyvilliana) on Kaua'I, Oregon State University
2011-2012: Mark Wiltermuth, PhD. Interaction of land use and wet-dry cycles on invertebrate populations in prairie wetlands: Implications of waterbird habitat conservation, North Dakota State University
2008-2010: Anne Mini, PhD. Comparative foraging ecology of two sympatric specialized grazers, Dusky Canada and Cackling Geese in the Willamette Valley, Oregon, Oregon State University