The purpose of the Bonnycastle Fellowship for Prairie Ecosystem Studies is to enhance the scientific understanding of prairie wetlands, associated habitats and wetland-dependent wildlife, and to contribute to the protection, restoration or wise use of this highly altered landscape.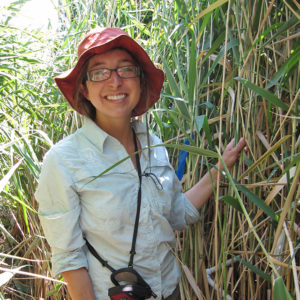 This fellowship has been awarded to Christine Rohal, a PhD student at Utah State University for her work related to phragmites. Phragmites is an invasive plant species that can substantially reduce wetland quality on the prairies and elsewhere. It is estimated that more than $4.6 million is spent annually in North America to control phragmites, with variable success and sometimes unexpected results. Christine is conducting novel research to assess methods of controlling the spread of phragmites while encouraging regeneration of native wetland plant communities.
The invasive plant, Phragmites australis, has been expanding rapidly in wetlands across North America. It has recently invaded large swaths of wetlands of the Great Salt Lake (GSL), UT. This is a major concern since these wetlands are a critical stopover for millions of migratory shorebirds and waterfowl. Managers here consider the phragmites invasion their priority management concern, and spend tens of thousands of dollars annually to remove it, but with mixed success. The objectives of Christine's PhD thesis is to improve phragmites management by evaluating multiple methods of removal. These methods include: summer mow, fall glyphosate spray; summer glyphosate spray, winter mow; fall glyphosate spray, winter mow; summer imazapyr spray, winter mow; summer mow, then black plastic solarisation; and untreated control. She will evaluate the following questions across study plots:
What are effective treatments for reducing Phragmites cover in wetlands?
What are treatment impacts on native wetland plant communities?
How do environmental factors impact treatment effectiveness?
About the Fellowship
The competition is open to graduate students based at any North American university. It will be awarded based upon the following criteria:
The qualifications of the applicant; the scientific soundness of the student's research proposal
Originality and creativity in study design
Expected contributions of the study to wetland or waterfowl ecology
The importance of the proposed research to conservation
Achievability of the work.
Applications from doctoral candidates are preferred, but strong Master's candidates are also urged to apply.
The award of up to $17,000 per year (Canadian funds) is available to provide personal or research support for successful applicants. The reward is renewable for up to two additional years for PhD students and once for Master's students, assuming annual approval of a satisfactory progress report and the need for continuing financial support.
For additional information on this fellowship, download the Graduate Fellowships Background document.
Past Fellowship Winners
2014-2016: Hannah Specht, PhD. Occupancy of wetland dependent waterbirds in the Bakken Oil Field, North Dakota: Developing methods to assess impacts on low density, low detection species of concern, University of Minnesota
2011-2013: Lauren Bortolotti, PhD. The recovery of ecosystem function and biodiversity in restored prairie wetlands, University of Alberta
2006-2008: Ryan Fisher, PhD. Effect of landscape composition on habitat selection of grassland birds, University of Regina