Sounds of science
New Echo Award helps grad students share their research with the world
Its namesake is a quiet lake nestled in Manitoba's Whiteshell Provincial Park – a place of reflection, hungry walleye and good company. For years, Dr. William (Bill) Clark and a group of friends have been meeting at Echo Lake to swap stories about science and re-connect with the natural places at the heart of their conservation research.
Now retired, Clark has created the Echo Award to support the up-and-coming researchers who will follow in their footsteps. It's ensuring the dialogue, the debate and the lessons of conservation science continue ringing out.
"The name of the award is no accident," says Clark. "It has personal significance because it is the name of the lake that my friends and I have fished for years. But I also think it captures the intent of this support.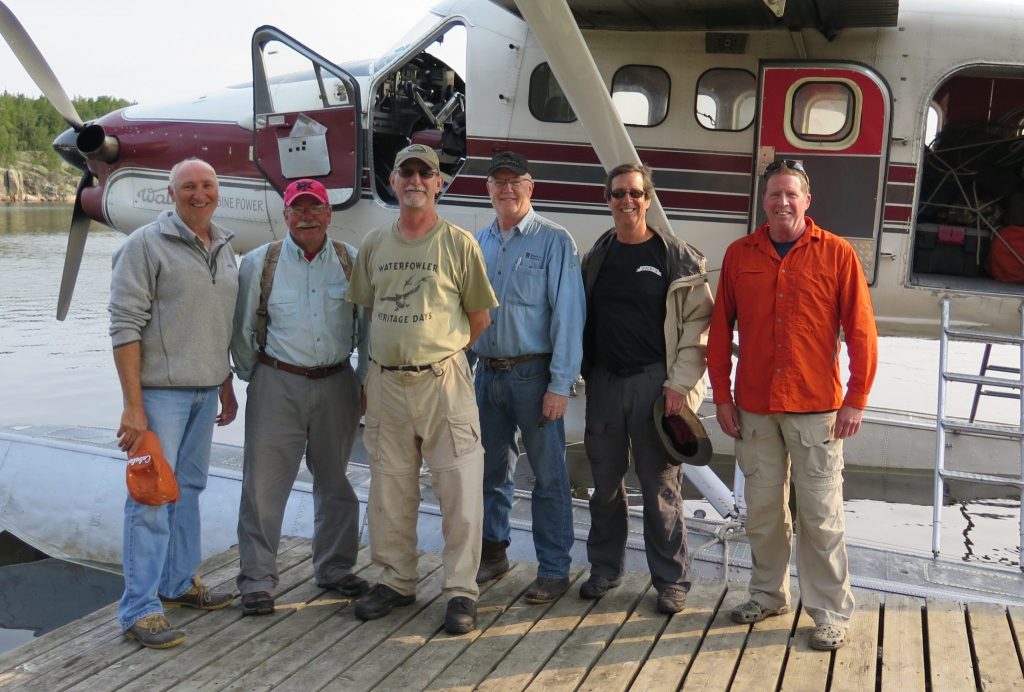 The Echo Lake crew (left to right): Dr. Dale Wrubleski, Dr. William (Bill) Clark, Don Sexton, Dr. Henry Murkin, J. Bruce Pollard, and Bill Elliott.
The Echo Award is granted through Ducks Unlimited Canada's (DUC) Institute for Wetland and Waterfowl Research. It will provide up to $1,000 for talented students to travel to scientific meetings and conferences.
"Graduate students are the future of waterfowl and wetland conservation," says David Howerter, director of national conservation operations for DUC. "A critical component of their development is participating in international conferences where they can share their research results and exchange ideas with other scientists while broadening their professional networks. The Echo Award will assist students with this crucial step in their education."
Clark is an emeritus professor in the Ecology and Evolutionary Biology program at Iowa State University.  Through his career, he and his students have collaborated on many successful research projects with DUC.
"Some of my closest personal friends work or have worked for DUC. I am proud to say that I can visit the Oak Hammock Marsh Interpretive Centre [the site of DUC's national office] and walk in unannounced to many of the offices on the second floor. My research on the Marsh Ecology Research Project, predators in the prairies, and the Summerberry Marshes were some of the most important and productive collaborations of my career," he says. "Not only do I want to support students, but I want to do this to honour my friends, to 'pay it forward' to young scientist conservationists who will take their place."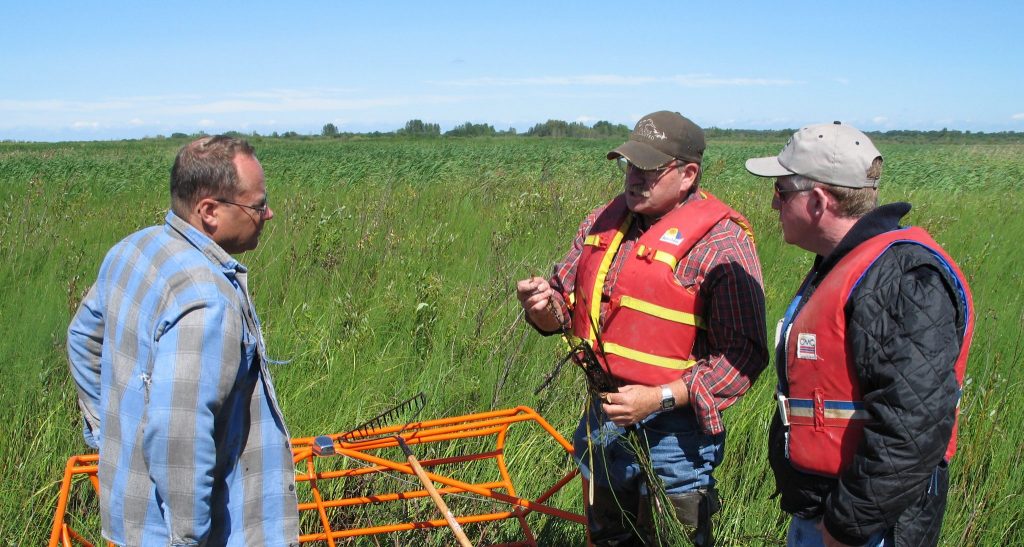 Dr. Clark shares his wetland knowledge in northern Manitoba.
"It is natural to reflect on one's career and affairs and I have thought about how important my connections to Ducks Unlimited Canada have been," says Clark.
Thanks to his generous support, the sounds of science will continue to be heard as generations of graduate students share their conservation research with the world. It's one echo that won't fade away.
The Echo Award will be granted through a competitive process, and students whose research is supported by DUC's Institute for Wetland and Waterfowl Research may be eligible to apply. For more information see IWWR Additional Awards.
Conservation colleagues and friends
Below are the special people who Bill Clark is honouring with the Echo Award. Each has made outstanding contributions to North America's wetlands and wildlife through their life-long commitments to conservation.
Mike Anderson – Mike is the Institute for Wetland and Waterfowl Research's emeritus scientist and DUC's senior conservation advisor. Mike and Bill met in graduate school at Utah State University in the early 1970s. While Mike is not part of the Echo Lake fishing crew, he is a close professional contact and friend.
Bill Elliott – Bill worked briefly for DUC at the beginning of his career, and is now president and CEO of FortWhyte Alive in Winnipeg.
Henry Murkin – Henry is DUC's retired national director of conservation. Henry and Bill met as part of the Marsh Ecology Research Project (MERP) at Delta Marsh in Manitoba. Henry and Bill co-edited the award-winning volume that summarized the MERP studies.
Bruce Pollard – Bruce worked with DUC as a research scientist from 1991 to 2000.  He now works with the Canadian Wildlife Service in New Brunswick as a wildlife biologist specializing in population management.  Through Bruce, Bill keeps close tabs on waterfowl population issues in the Atlantic Flyway where he grew up.
Don Sexton – Don is a retired DUC field operations manager and was the co-chair of the Manitoba Water Council. Don and Bill met through his research in Manitoba. He is the organizer of the Echo Lake crew and one of Bill's regular hunting and fishing buddies.
Dale Wrubleski – Dale works as a senior scientist for DUC's Institute for Wetland and Waterfowl Research. Dale and Bill also met at Delta Marsh during the MERP. They were principal investigators together on the Summerberry Research Project, one of Bill's last research projects.