The objectives of the DUC-MBNA Canada Bank® Conservation Fellowship are to develop talented young professionals who are dedicated to furthering the conservation of wetlands and wildlife, and to advance the scientific understanding of waterfowl and wetland biology in Canada.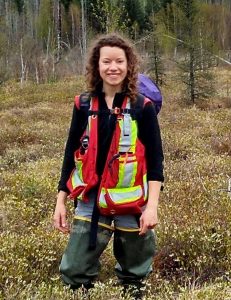 This fellowship has been awarded to Moriah Tanguay, a MSc student at the University of Saskatchewan for her research on habitat selection by scoters in the Northwest Territories.
The North American breeding population of scoters remains below historic levels. With more than 80% of this population in the boreal forest, habitat changes in that landscape may be important. Focusing on white-winged and surf scoters in the Ramparts River area in the Mackenzie River Valley, Moriah will identify wetland and landscape characteristics that predict breeding scoter abundance and examine the relative importance of foraging and nesting habitat for wetland selection by scoters. Her work will refine our understanding of scoter habitat needs and thus improve identification of priority scoter habitat and inform conservation planning in this important waterfowl area.
About the Fellowship
The fellowship is open to Canadian graduate students enrolled at a university in Canada or abroad. Subject matter for the student's research can deal with any aspect of waterfowl or wetland biology that promises to advance conservation in Canada. Fellowships will be awarded based upon the following criteria:
The qualifications of the applicant; the scientific soundness of the student's research proposal
Originality and creativity in study design
Expected contributions of the research to furthering waterfowl conservation
The achievability of the work.
Preference will be given to proposals with demonstrable management applications. One award of up to $10,000/year (Canadian funds) is available to provide personal or research support for the successful applicant. The award may be renewable for up to two additional years for PhD students, once for Master's students.
For additional information on this fellowship, download the Graduate Fellowships Background document.
Past Fellowship Winners
2016-2018: Matt Dyson, PhD. Waterfowl nest success in the Western Boreal Forest: Does industrial development alter predation rates?, University of Waterloo
2013-2015: David Johns, PhD. Landscape-level breeding ecology in prairie ducks: Patterns in settlement, reproduction, survival and physiology, University of Saskatchewan
2011-2012: Jennifer Sheppard, MSc. Habitat selection trade-offs and reproductive success of mallards in the Prairie Parklands, Canada, University of Saskatchewan
2008-2010: Kirsty Gurney, PhD. Temporal and spatial patterns of duckling survival and productivity in temperate-nesting waterfowl, University of Saskatchewan
2007: Jean-Michael Devink, PhD. Comparative Ecology and Reproductive Energetics of Boreal Breeding Lesser Scaup, Ring-necked Ducks and White-winged Scoters, University of Saskatchewan